BS EN 62305 emphasizes the importance of a comprehensive risk assessment that considers both the structure and the services associated with it. Lightning protection cannot be considered in isolation, as the standard also addresses protection against transient overvoltage's and electrical surges.
As part of our services, we always begin with a consultancy process to understand your requirements and align them with the BS EN 62305 standard. We consider various factors, such as the type of structure, the required level of protection, elevations, cost-effectiveness, and the prevailing types of protection. Our engineers will provide recommendations tailored to your specific needs.
In addition to existing structures, we also collaborate closely with new and ongoing developments that require lightning protection. Our aim is to ensure the safety and full compliance of these projects within British standards.
BS EN/IEC 62305 has identified four main sources of damage:
S1 – Flashes to the structure
S2 – Flashes near to structure
S3 – Flashes to services
S4 – Flashes near to services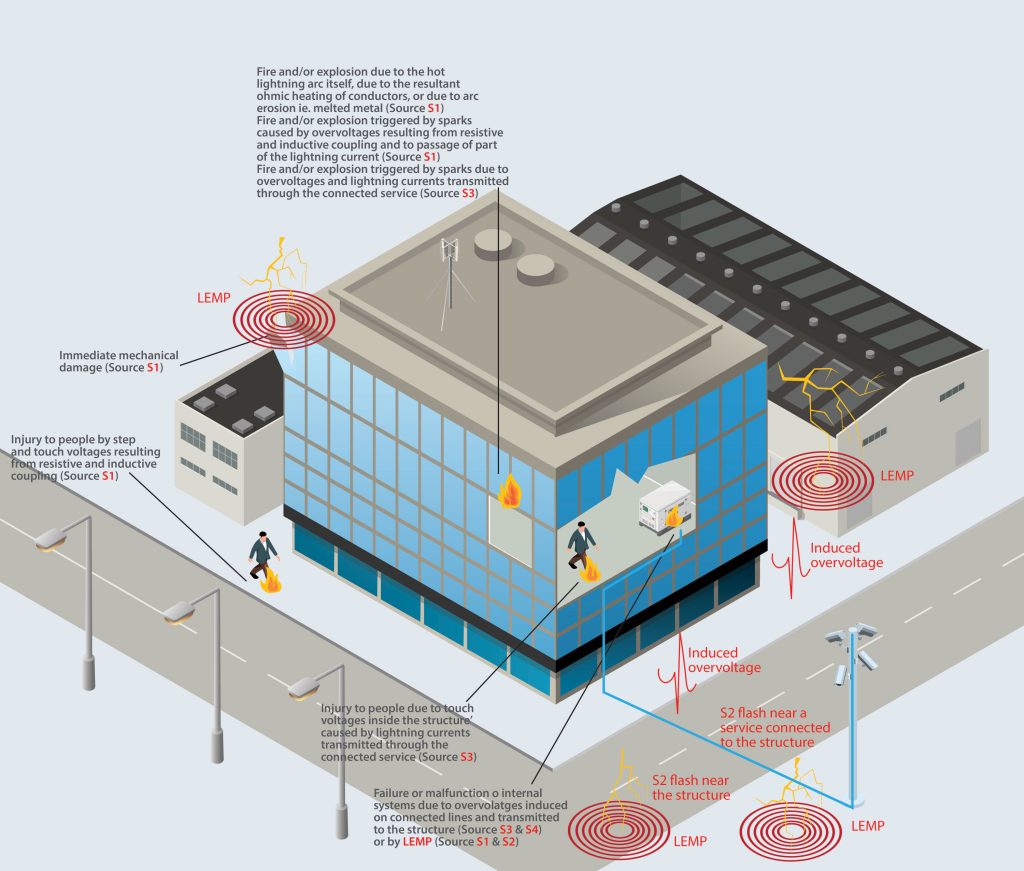 What are voltage surges?
Electrical systems face risks from sudden voltage spikes called overvoltage's, caused by factors like electrical overload, faulty wiring, lightning strikes, or power restoration after outages.
BS EN 62305 is a European standard for protecting structures and people from lightning strikes. It emphasizes surge protection.
Surges are brief voltage spikes that can damage sensitive electronic equipment. Lightning strikes and other factors can cause surges.
BS EN 62305 recommends using surge protective devices (SPDs) to limit voltage and current. Guidelines cover selection, installation, and maintenance of SPDs.
A risk assessment specific to the structure and equipment, will provide a guide to surge protection. Testing and certification of SPDs ensure effectiveness.
Surge protection in line with BS EN 62305 safeguards structures and equipment from lightning strikes and surges, reducing damage and ensuring reliable operation.
Why is this necessary?
Over-voltages can cause damage to electrical and electronic systems and equipment, disrupting operational and critical services. This can lead to costly downtime and repair costs. In terms of potential losses to business or essential services, the need for protection against transient over-voltages becomes essential.